Televisi Goldstar Gambar Hilang-Hilangan
An article by
hamim
No Comments
Diagnosa
Televisi Goldstar jika kita hidupkan sesaat gambar mulai tampak pada layar monitor begitu pula dengan audionya, tetapi gambar yang dihasilkan terlihat tidak stabil suka hilang-hilangan.
Model televisi Goldstar: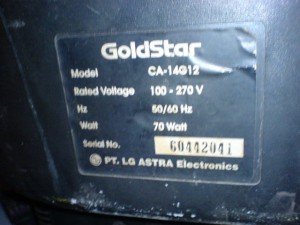 Apakah yang menyebabkannya ? Segera kita selidiki.
Untuk kasus kerusakan yang seperti ini bisa kita periksa sistem auto tuning pada menu televisi, jika televisi sama sekali tidak bisa menyimpan gelombang siaran secara otomatis maka kita sudah dapatkan letak kerusakannya. Letak kerusakan ada pada fungsi AFT [ automatis fine tuning ] .
Dengan rusaknya fungsi ini menjadikan hasil penerimaan televisi menjadi tidak stabil, AFT di dapatkan dari IC yang telah di pasangkan Coil untuk mengatur frekuensi-nya. Kerusakan di sebabkan oleh capasitor yang ada pada coil dan untuk ini kita mesti mengganti coil-nya. Type coil yang digunakan adalah E08L karena kita tidak mendapatkan yang sejenis maka kita gunakan type U489 sebagai penggantinya.
Penerapan coil baru mesti ada perubahan dari settingan ferit coil yaitu kita mesti memutar 1 kali putaran penuh untuk coil VCO dan 1,5 untuk coil AFT. Memutar ferrit kita hitung berdasarkan settingan bawaan coil U489, Posisi coil AFT pada mainboard televisi bisa kita lihat pada gambar berikut:
Tanda lingkaran hitam adalah coil AFT sedangkan yang satunya adalah VCO. Setelah selesai penggatian dan setting coil kini kita coba kembali hidupkan televisi ? Hasilnya Alhamdulillah gambar penerimaan televisi sudah kembali stabil
Leave a comment
You must be logged in to post a comment.
Profil
Hamimservis
Jln Kalibata Selatan RT011 RW004 No 8 Jakarta Selatan 12740
Phone : +628128117641 ( maaf hanya melayani telpon ) Email : hamimalkorif@hamimservis.com Pin BB : 7478C584