Amplifier Toa ZA2240 Mati-Total
An article by
hamim
4 Comments
Diagnosa
Amplifier Toa ZA-2240 jika kita coba hidupkan terlihat lampu indikator tidak menyala, seperti tidak ada aliran listrik yang masuk ke dalam rangkaiannya.
Model amplifier Toa :
Apakah yang menyebabkannya ? Segera kita selidiki .
Pemeriksaan kita mulai dengan melihat kondisi fuses/sikring pada jalur input jala-jala PLN, disini kita melihat fuses masih dalam keadaan terhubung. Selanjutnya kita coba masukan aliran listrik dan mengukur tegangan output dari trafo ? disini kita dapatkan adanya tegangan output sebesar 26 volt AC.
Selanjutnya kita coba ukur tegangan Dc out-nya,rangkaian amplifier membutuhkan tegangan DC dan ini di dapat dari trafo setelah melewati penyearah/ Dioda, disini kita tidak menemukkan tegangan output tersebut. Berarti telah terjadi kerusakan pada Dioda sehingga tegangan Ac yang diterimanya tidak dapat dirubah menjadi Dc
Fungsi dioda sangat vital dalam proses penyearahan arus AC menjadi DC, dan untuk jenis amplifier ini memang membutuhkan arus yang lumayan besar. Jadi segera kita adakan pengukuran Dioda , hasilnya dioda memang dalam keadaan rusak salah satu dioda yang ada didalamnya ada yang shot, seperti yang kita tahu model dioda-nya adalah bridge/ 4 jadi satu.
Model Dioda-nya :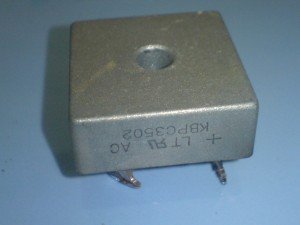 Dioda pengganti yang kita gunakan tidak seperti aslinya , disini kita gunakan dengan versi yang lebih besar . Tampak setelah pemasangan di PCB bisa kita lihat pada gambar berikut :
Untuk memasangkan dioda model ini mesti di modifikasi karena posisi kaki dioda tidak sama, jadi bisa dilihat simbol pada badan dioda dan samakan di PCB-nya. Kini tinggal memasangkan kembali ke alumunium-nya dan juga menempelkan ke sasis , Tampak atas amplifier Toa :
Setelah selesai proses penggantian dioda kini kita coba kembali hidupkan kembali amplifier Toa-nya ? Hasilnya Alhamdulillah amplifier Toa telah hidup kembali dengan normal.
Related Posts
Leave a comment
You must be logged in to post a comment.
Profil
Hamimservis
Jln Kalibata Selatan RT011 RW004 No 8 Jakarta Selatan 12740
Phone : +628128117641 ( maaf hanya melayani telpon ) Email : hamimalkorif@hamimservis.com Pin BB : 7478C584